Walk 1 – Tegg's Nose Country Park Trail
Length: 2.5 miles
Grade: Moderate
Highlights: Tegg's Nose Quarry, Macclesfield Forest.
Best time of year: Summer
This short walk starts from the Visitors Centre and car park off Old Buxton Road. From the centre head back towards the entrance to the country park and turn left to follow the path. After a short distance pass through a stile and turn left to take the small set of stairs and carry on uphill towards the old quarry and the quarry equipment display, before you reach the quarry area there are good views to your left looking across towards Macclesfield Forest.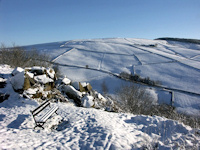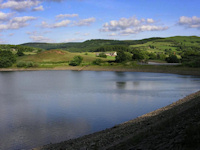 The main paths are good walking routes at the Country Park but take care especially with young children around the quarry workings and equipment as there are many steep drops around the rock faces. Carry on along the path heading south and after a short distance you will reach the Tegg's Nose summit at a height of 380 metres where there are more great views across Macclesfield Forest and Tegg's Nose and
Bottoms Reservoir as well as across Macclesfield and towards the Telecom Tower on Sutton Common.
Return to the path as it loops back towards the north and look for a path on the left which you then follow downhill towards Tegg's Nose Reservoir. When you reach the reservoir walk along the dam before turning left alongside the reservoir and then alongside Walker Barn Stream towards the north. Carry on along this path until you reach Clough House Farm and bear left and uphill along Saddlers Way which will take you back to the Visitor Centre.